1968 Oldsmobile Cutlass Convertible
This is actually a 442, Olds' version of a muscle car in that era. Mine wasn't. However, the paint color and top color are virtually identical.

I had some good times in this. I remember getting caught in the rain near Daytona Beach on I-95 on my way from Jacksonville to Hollywood. At speed, the rain just swept right over me and into the back seat area. If I had tried to stop under an overpass, I would have gotten wet as I slowed down. It was easier just to drive out of the rain. The seats would dry okay later.

The coldest I've ever been in my life was sitting in this car one night in Jacksonville waiting for a friend (yes, the top was up). It was only 17°, but the heater just couldn't get me warm. I've seen -26° in Chicago, and I wasn't as cold as I was that night.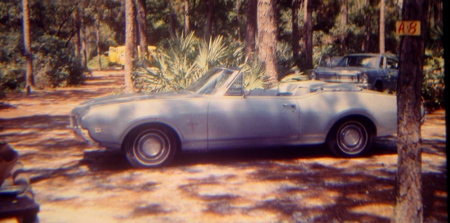 Well, I knew I had this pic somewhere, and after many years of storage, I found this slide I took at a "love-in" I attended at a park near Hollywood, probably in 1969. One of the featured acts was Sweetwater. They were at Woodstock. I just recently found a CD of their original LP (which I used to own before I dumped all my vinyl). Not as good as I remembered, but not bad. Anyway, this is my actual car. Compare it to the 442 above.
Update: There was a program which aired on the local PBS station called Muscle Car Workout. It featured projects done by a local speed shop in New Smyrna Beach, just twenty miles south of me. In the first season, they restored a 1968 Olds Cutlass convertible, virtually identical to mine. That includes the color, the upholtery, and the top. The only difference was the wheels and along the body breaks where mine had pinstriping—theirs had chrome trim and cool wheels, much like the 442 in the top two pictures, however, theirs was not a 442. Makes me want to find one…
Last updated: 03 September 2015